OMG. Those ears and those eyes, how could anyone resist falling in love with this handsome little gentleman? Murphy the Boston Terrier is only 17 weeks old in this video, and you can clearly see why Boston Terriers are such a beloved breed.
Murphy shows us how very smart, highly trainable, active, and easy Boston Terriers are to maintain. They are also very tough, are highly sociable and have some of the most expressive facial features.
Murphy's hobbies include swimming, learning German, and charming people people around the world with his clever tricks. Did you like them?
Want more stories like this? Click Like!

Recent Dog Videos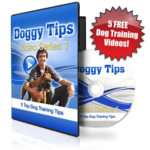 Join our newsletter to receive instant access to dog training videos & more resources.
Read More