Warning: This video contains a double dose of Cuteness and may be too cute for you to handle!
The baby is so amazed to meet his new doggy bro. He's got the most joyful eyes as he smiles up at mom, and then back at the puppy. I'm so glad they could capture those first moments and share them, that face to face greeting was priceless!
The young boy can't control his eagerness to pet the Retriever puppy, and gets a little too grabby. I'm hopeful that he'll learn to be more gentle, but the thing that really stood out to me was the Labrador puppy that remains just so chill about everything the entire time. Labradors are such a great family friendly breed aren't they?
I'm thinking they'll be best friends as they grow up together.
Want more stories like this? Click Like!

Recent Dog Videos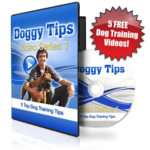 Join our newsletter to receive instant access to dog training videos & more resources.
Read More