A hilarious collection of family dogs interacting with babies and toddlers.
Some of the "fur babies" definately get a little too boisterous for me, but it's all in good fun.There's one particular dog that sits on a baby's head – hey that baby is not a cushion!
Would you let your dog give your baby a "lick bath"?
Bye-bye "new born baby smell" hello, "doggy breath"…LOL!
Want more stories like this? Click Like!

Recent Dog Videos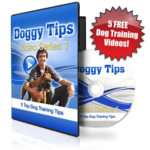 Join our newsletter to receive instant access to dog training videos & more resources.
Read More