Now, here's a sweet story of a rescued dog that does some rescuing of his own.
Rex the Shepherd mix was a feral dog, surviving by his wits and teeth in the concrete jungle of California. Fighting with other dogs, and having to hunt for every scrap of food meant that life was a daily struggle to survive. But his luck would change for the better when one day he was adopted by a kind-hearted man named Ed Gernon.
Rex adapted quickly to life with his human in their forever home. He had his own doggy dish with fresh food, a soft bed, and all the care he deserved. But a month after the adoption, while walking together through their neighbourhood Ed learned that his tough street smart dog has a gentle and tender side.
Just as Rex had once received the desperate help he needed from a kind soul, now Rex would be the kind soul to show mercy to a life even more fragile than his own.
While on that fateful walk, Rex discovered a tiny Hummingbird lying dead on the sidewalk, featherless and covered in ants. It was certainly sad, but since Ed thought nothing could be done about it now he wanted to continue the walk. However, Rex refused to budge. He simply would not leave the bird alone. This is when Ed took a closer inspection of the bird and realised that the poor creature was not dead, but was very sick and being eaten alive by the ants.
Ed says, "It was this little creature, this fragile creature that the whole world wanted to kill and Rex was trying to protect her."
Ed and Rex opened their hearts and their forever home to the delicate Hummingbird. Despite being on the brink of death, "Hummer", as they would later name her, showed her new family she packs a lot of heart in her little body. Ed painstakingly nursed Hummer back to health and miraculously she has survived and thrived!
Hummer has formed a deep friendship with both Ed and Rex. She even bathes and drinks from Rex's water bowl. Ed describes it as being like living with Tinker Bell.
According to Ed, Hummer is free to fly away whenever she wishes, but so far she chooses to stay close to her new adopted family.
I really admire Ed. Feeding Hummer every 15 minutes from sunup to sundown is no easy feat, and it says a lot about him as a man. And what about Rex? Being a once feral street dog he could be forgiven for simply eating the helpless bird on sight, but instead he sensed there was still hope for the desperate little bird and he chose to act with kindness.
Thumbs Up for big hearts like Ed, Rex & Hummer.
Want more stories like this? Click Like!

Recent Dog Videos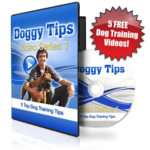 Join our newsletter to receive instant access to dog training videos & more resources.
Read More