Meet Mackie the Boston Terrier who just loves getting his belly tickled! He makes the most ridiculously cute face, I really can't help but giggle.
The look of anticipation of the next incoming tickle is what gets me.
Boston Terriers are so cute, and Mackie has so much personality he even has his own website http://www.mackiethedog.com/
Video credits go to his owner RockinRobinzo – thanks for sharing and showing just how cool Mackie is!
Want more stories like this? Click Like!

Recent Dog Videos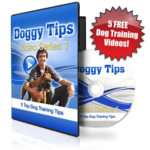 Join our newsletter to receive instant access to dog training videos & more resources.
Read More