LOL! Silly human, can't you see this magnificent beast of a bulldog is just too damn buff to bother walking on your lame treadmill?
Don't you just love his expressions? He's all like "stuff this". This stocky little bulldog is more of a sitter than a runner.
But seriously, I know just how you feel buddy, I get bored on treadmills too.
Something tells me little food rewards are going to be helpful with training this bulldog…
Want more stories like this? Click Like!

Recent Dog Videos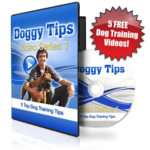 Join our newsletter to receive instant access to dog training videos & more resources.
Read More