When Maverick the German Shepherd Dog and his human companions set out for a day of fishing they planned on a nice and relaxing time out on the water. But when Maverick spots a dolphin pod breaching the surface in front of their boat he just can't control his excitement. Not content to simply admire the dolphins from afar, Maverick decides he just has to get up close and say "Hi!".
Maverick certainly lives up to his name. Well, like fisherman always say, when you set out fishing you never know what your gonna catch. Hopefully Maverick didn't catch a cold!
Want more stories like this? Click Like!

Recent Dog Videos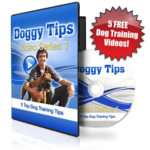 Join our newsletter to receive instant access to dog training videos & more resources.
Read More