Contents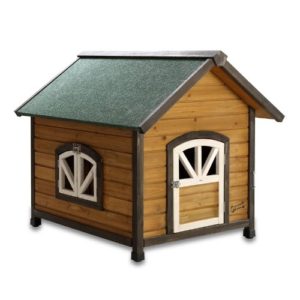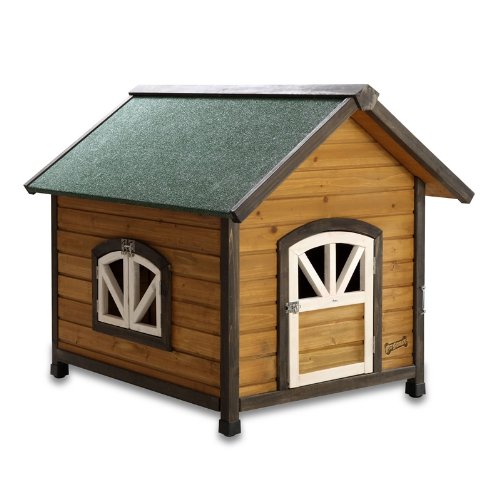 The Pet Squeak Doggy Den Dog House is one of the more affordable yet attractive options in dog shelters. Its cute rustic log cabin appearance can be the highlight of any yard. The doggy den is easy to assemble and gives your pet a nice place to nap or hang out. This product has many benefits and uses that ranks it higher than most traditional doghouses.
Dog House Style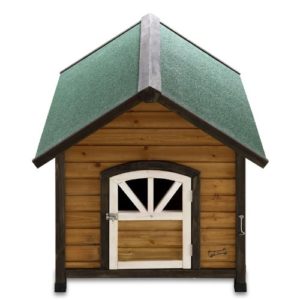 This doghouse has a charming log cabin feel to it, complete with little door and windows. It truly provides a home for your pet.
A-framed roof
Shingle-patterned roof covered with asphalt to make it rain resistant
Partially ventilated door that you can leave open or latched closed
Window for added ventilation and as a lookout post
Elevated wooden floor to help keep out moisture
Material
Made from stained white wood/white cedar
Fresh cedar aroma
Resistant to most pests
Beautiful home-like appearance
1 year guarantee on workmanship and material defects under normal conditions
Not as durable as other materials like structure foam but made of natural non-toxic wood
Sheet-lined roof
Dimensions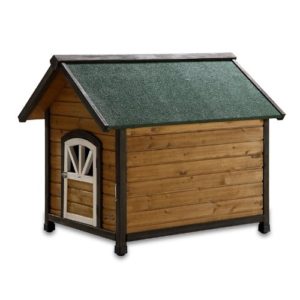 The Doggy Den comes in three standard sizes: small, medium, and large.
Small:
Exterior: 27.75"H x 25.5"W x 27.5"L
Interior: 23"H x 20.5"W x 27.5"L
Weight: Up to 25 pounds
Medium:
Exterior: 31.5"H x 30"W x 34"L
Interior: 26.5"H x 24.75"W x 27"L
Weight: 41-60 pounds
Large:
Exterior: 34.5"H x 31.25"W x 39.5"L
Interior: 29"H x 26.25"W x 31.5"L
Weight: 61-75 pounds
Doorway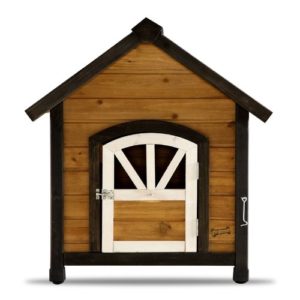 The Pet Squeak Doggy Den Dog House comes with a unique feature: a hinged front door that can be latched shut.
Doorway dimensions vary, according to size.
Small: 12.5"H x 10.25"W
Medium: 15.5"H x 12"W
Large: 15.5"H x 11.75"W
The doorway is centered in the front of the Pet Squeak Doggy Den and has a latch to keep it open. A slide bolt latch lets you lock the door shut to keep your pet inside if needed or to keep out unwanted pests when not in use.
In addition to measuring your dog size in length, you should also measure your dog based on the doorway dimensions to help ensure a perfect fit. Keep in mind the weight limits for each sized unit and get a larger size if you expect your dog to get bigger and larger.
Suitable Dog Breeds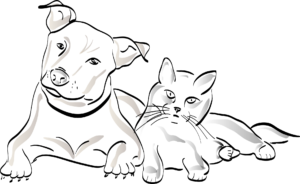 The Pet Squeak Doggy Den Dog House comes in three sizes so they are suitable for a wide range of breeds.
Small: Dogs weighing up to 25 lbs. Yorkie, Chihuahua, Shih Tzu, Pug, Dachshund
Medium: Dogs weighing 41-60 lbs. Bulldog, Boston Terrier, Beagle, Cocker Spaniel, Husky
Large: Dogs weighing 61-75 lbs. Labrador, Boxer, Golden Retriever
These houses are also very popular homes for other pet animals besides dogs. There are many cat owners that just love how cute this dog house cat house is! I also read a positive review from a lady that put 2 nesting boxes inside the large sized house for her 3 backyard hens!
Insulation and Ventilation
The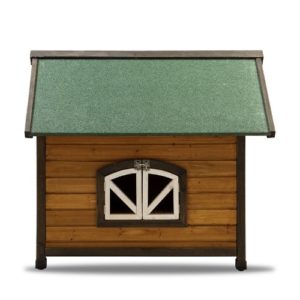 Pet Squeak Doggy Den dog house does not have any insulation. Even with the elevated wooden floor, extra insulation should be added to provide a warm resting spot during the winter months.
This style of doghouse does offer adequate ventilation. It has windows, allowing air to circulate freely within the doghouse. However, these windows have no shutters or panels to close them in bad weather. As a result, you should, as with all doghouses, still bring your dog inside your home during freezing temperatures and other severe weather conditions.
Assembly
This beautiful doggy den does not come already assembled. But not to worry. Assembling the doghouse could not be easier.
Clear, easy instructions.
Doggy den can be completed in under 30 minutes.
Windows and door come already placed in walls.
Levelers on leg bottoms allow greater stability.
Accessories
I could not find any brand-related accessories in my research. But, I can give you some ideas to make your doggy den a home.
Since this dog house offers no insulation, some options for you can be loose bedding, an insulated doggy bed, or a pad such as the K&H Manufacturing Self-Warming Crate Pad.
Ventilation
Without a doubt, the Pet Squeak Doggy Den dog house has great ventilation. However, without shutters or flaps, your dog will still be exposed to the elements. A simple fix can come in the form of cut plexiglass sections that can cover the windows during bad weather. It can easily be attached with Velcro strips or hinges.
Since many customers prefer the use of dog houses as coops for their chickens and ducks, some other accessories might be needed. Hardware cloth will give added protection from weasels and other predators.
Customer reviews
Customer reviews provide an excellent means in which to evaluate this doghouse. Interestingly, a large number of customers who purchased the Pet Squeak Doggy Den dog house use it for other pet animals.  It appears that the doggy den offers a great home for a variety of different animals from ducks, chickens and cats.
Doghouses are often used for duck coops. This made perfect sense to me. The low ceiling keeps the ducks' body heat from escaping. The locking front door and windows makes sure they are safe from predators at night. The doggy den is a spacious place for a number of ducklings to nest and sleep, allowing for a safe place for them to congregate.
One customer commented on how the Pet Squeak Doggy Den interior was plenty big enough to install chicken nesting boxes for her chickens. Adding some hardware cloth to the open windows gave them just the protection they need for a chicken coop. This structure would keep your chickens safe from predators and keep their food from getting wet.
All cats tend to love enclosed spaces. The windows on the doggy den provide the perfect lookout spots for your cats to survey the entire yard. Feral cats seem to love the windows, as they provide an easy escape route from running away from raccoons or other wild animal life. Food can be kept inside the unit for outside cats to protect the food from weather elements and other animals. Just add some loose bedding in the colder months and your outside cats will be toasty warm.
Dog owners who do utilize these doghouses for their dogs state that they are best utilized for covered porches or garages that add an added layer of protection against the elements. Heavy rain or windy rain will allow water to get through the slates. Covered areas provide just enough protection to make these doghouses waterproof. The units are lightweight enough to be moved to different locations, allowing for mobility from sunny locations to covered areas depending on the weather conditions. Because these doggy dens provide an attractive place for a variety of animals, it is suggested that the doors remain latched when not in use in order to keep out unwanted creatures.
You can read reviews from the Pet Squeak Doggy Den Customer Reviews page at Amazon.com
Price
Depending on what your plans are for the Pet Squeak Doggy Den dog house, the price is comparable to other doghouses. It is reasonably enough priced that you could replace it every 2 years or so. You should keep in mind that additional purchases may be necessary to make the most out of these doghouses. Extra purchases might include inside bedding, covers or flaps for the open windows and minor maintenance costs when the wood materials decay. Some owners have added in extra wood, caulk and paint to help seal gaps in the wood flooring and sides.  This was done to improve the weather-proofing when positioning the dog house in the backyard without cover.  All of these added extras will bring up the costs of this doghouse, but they will also add to the longevity of its use.
Pros and Cons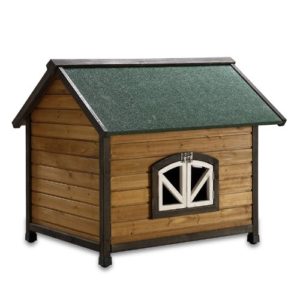 Now that all the features have been discussed, let's look again at the advantages and disadvantages of the Pet Squeak Doggy Den Dog house.
Pros
Rustic log cabin appearance highlights any yard
Private, cozy space to attract your dog
Weather resistant wood to prevent rotting
Available in different sizes
White cedar materials makes for a pest resistant home
Great ventilation
Offers a latching front door and window
Easy, clear instructions
Assembly can be completed in under an hour
Raised floor avoids contact with wet or frozen ground
Non-toxic materials and pet safe sealer
Cons
No insulation in the building materials means extra purchases.
Made from wood, this doggy den lacks the durability of other materials.
Not mold or mildew resistant.
One year warranty covering material defects.
Purchase requires maintenance and other costs.
Our Opinion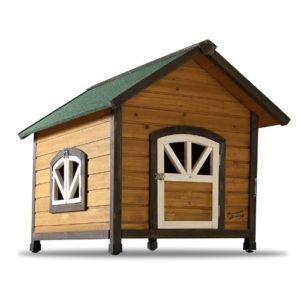 If you are looking for a doghouse that will last through severe outdoor weather conditions and for the life of your dog, then an insulated doghouse made from structured foam or plastic would be a better purchase.
If you are looking for an adorable doghouse shelter that you can place under a covered area, then the Pet Squeak Doggy Den House would be a great choice.
This doghouse can make a great transition home for a puppy. Puppies grow so fast that making a large purchase right away is often not advised. They have a ton of energy and can be very destructive to household products and their toys. An affordable doghouse made of strong wood is ideal for allowing your puppy the room needed to grow. More expensive and elaborate doghouses can be purchased when your dog is full-grown and less energetic.
Customers who purchase the Doggy Den do so for a variety of needs. Despite it's name, the Doggy Den is definitely not just for dogs. It makes a perfect home for outside/feral cats, ducks, and chickens as well.
Check Pet Squeak Doggy Den Price & Availability