Remy the 15 week old beagle puppy has just detected a strange new enemy in his home: a springy doorstop! Watch as Remy investigates, with hilarious results. Remy's reaction is 50% playful + 50% fearful and 100% adorable.
I wonder what the funny beagle puppy is thinking of the odd thing sticking out of the wall. The weird sound the spring makes seems to surprise him. What a loud bark he has already!
I hope that Remy "The Ever Vigilant" Beagle and his owner ChimneySwift11 have many happy years of fun and companionship, and may all their household fixtures and fittings be subdued!
Want more stories like this? Click Like!

Recent Dog Videos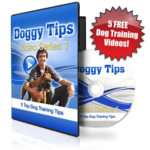 Join our newsletter to receive instant access to dog training videos & more resources.
Read More