Contents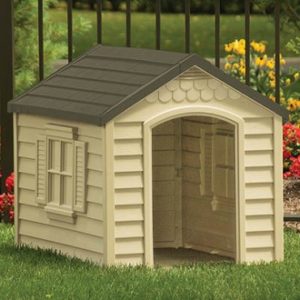 The Suncast DH250 Dog House will keep your dog warm and dry. Due to the easy, snap together assembly your dog will be able to enjoy the comfort of his own home in no time at all. The dog house is well worth it because it is constructed of durable resin and will not rust, rot or dent. There is a removable roof so that the interior is easy to clean.
Product Features and Benefits
Easy and tool free assembly.
Made of durable resin construction.
Has air circulation vents.
For easy cleaning the roof is removable.
There is a crowned floor with channel around the edge to keep water from seeping in.
The dog house can be staked to the ground.
Vinyl doors are included.
Material
The basic construction of this dog house is of durable resin. It comes with vinyl doors and has a snap together assembly.
Dimensions
Depth 35 in.
Width 27 in.
Height 29.5 in.
Weight 20 lbs.
Doorway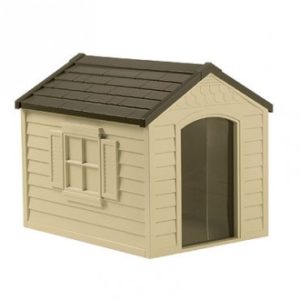 This classic style dog house has the doorway centered in the middle of the house which looks fine, but is not as insulating as an off-center doorway.
Some great news is that the Suncast DH250 Dog House includes attachable door flaps to prevent wind drafts from blowing on your pet.  Many other dog houses require you to purchase the doors separately, so it's nice that you get them included free.
The door opening measures 11.75″W x 20.5″H
Suitable dog breeds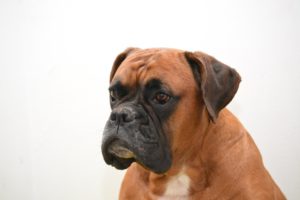 The Suncast DH250 dog house is for dog breeds up to 70 lbs. such as:
Airedale Terrier
American Foxhound
Belgian Sheepdog
Boxer
English Setter
Golden Retriever
Insulation and ventilation
This is a very basic dog house and there is no insulation material. Has a sturdy resin construction that won't let the dog house rust, rot or dent. There is a crowned floor to prevent water from seeping in and keeps dogs warm and dry.
Assembly
Easy, snap together assembly but does require the download of the Adobe Acrobat Reader to be able to view the PDF documents.
Accessories
A heating pad can be purchased along with the dog house, with a popular choice being the K&H Self-Warming Crate Pad 21″x31″.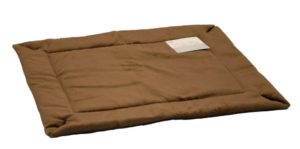 Customer Reviews
Suncast DH250 Dog House customers rave about the easy, snap together dog house construction. They like that the dog house is of good size and weight and has a nice design. The plastic door covers keep out the cold, hot weather and rain. They also love that the construction of this dog house doesn't take more than around 20 minutes. The only complaint they seem to have is that the dog house could have more insulation and the floor could be thicker. When constructing the tabs must be tightly put together otherwise there are cracks left open in the dog house.
You can read Suncast DH250 customer feedback here.
Price
For a plastic and easily assembled dog house the price is reasonable and on some sites there is even a discount available.
Pros:
Can be easily assembled.
Has a durable resin construction.
Air circulation vents.
The roof can be removed for cleaning.
There is a crowned floor which won't let water seep in.
The dog house can be staked to the ground.
Vinyl doors are included with the dog house.
Cons:
No actual insulation.
Floor could be thicker.
Our Opinion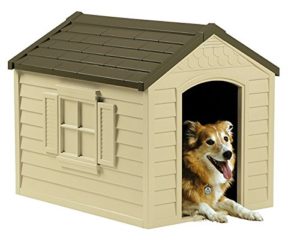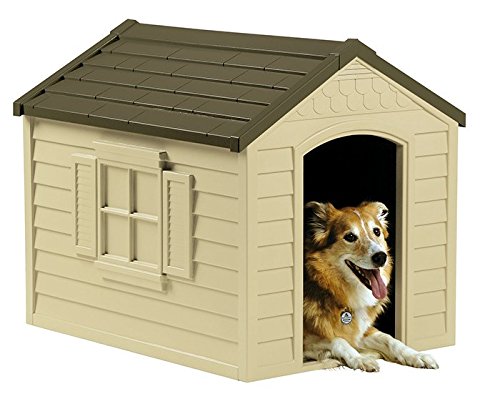 Overall the Suncast DH250 Dog House is a good quality, simple, plastic dog house that could serve your dog for many years to come. As long as you live in a moderate climate and you do not need an insulated dog house such as the ASL Solutions Dog Palace or the Petmate Indigo Igloo.
It has a nice style and dogs seem to take to it right away. There should be no problems once it is assembled and you can stake it to the ground if you prefer. Overall this dog house is worth the purchase.
Check Suncast DH250 Price & Availability
Click below to check the current price of the Suncast DH250 Dog House.
Buy from Amazon