When Hannibal the Boxer sees the return of his owner from vacation he is less than impressed. You think you can leave Hannibal in this lil' box while your Livin' la Vida Loca?
Then you just waltz back in like everything's rosy? Oh hell naw, Hannibal ain't playing that!
LOL, this clip does actually remind me of Hannibal "the cannibal" Lecter from Silence of the Lambs. "I ate his liver with some fava beans and a nice chianti" – Hannibal later that night.
Want more stories like this? Click Like!

Recent Dog Videos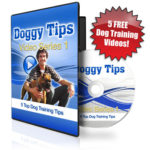 Join our newsletter to receive instant access to dog training videos & more resources.
Read More