At 3 weeks old, these Yorkie puppies only weight about 1 pound each. But big or small, boys will be boys. The three feisty brothers are tapping into their deadly hunting instincts.
But the real star of this video is their sister Lo. I just love the way Lo marches around like a proper soldier on patrol.
I think she is just too cute! Like, Comment, Share if you agree.
Want more stories like this? Click Like!

Recent Dog Videos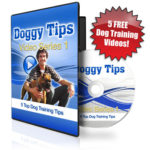 Join our newsletter to receive instant access to dog training videos & more resources.
Read More